Relocating can be a daunting process, but moving into a smaller space presents a unique set of challenges. However, with the right planning and execution, it can also bring numerous benefits, like more storage, easy access to your belongings, and a simpler lifestyle.
Whether it's for financial reasons, a lifestyle change, or simply the appeal of a cozier living space, downsizing can be a rewarding journey. When it comes to the wonderful place of Vero Beach, Florida, with its spectacular coastal views and close-knit neighborhood community, moving into a smaller home can be an attractive option.
Our goal in this comprehensive guide is to deliver detailed tips for a seamless transition to your new space and location in Vero Beach, providing you with all the additional information you need to handle this significant change.
The Benefits of Downsizing
Downsizing your living space offers an excellent opportunity to declutter your life, save on costs, and enjoy a lifestyle that values experiences over possessions.
Living in a smaller home reduces your house chores and upkeep, freeing up the rest of your time to explore the delights of your new neighborhood in Vero Beach.
This treasure coast city, located nestled on Florida's east coast, boasts beautiful beaches and vibrant neighborhoods, offering residents an appealing lifestyle that blends leisure and convenience.
Moreover, moving into a smaller home can provide significant financial benefits. Lower utility bills, reduced maintenance costs, and potentially even a smaller mortgage or rent payment can contribute to a substantial decrease in your living costs.
Coupled with the lower cost of living in the city of Vero Beach compared to other cities located on the east coast, you'll find your decision to downsize pays dividends, providing you with more disposable income to enjoy your new surroundings.
Read More: Affordable moving services in Vero Beach.
Pre-move Organization and Planning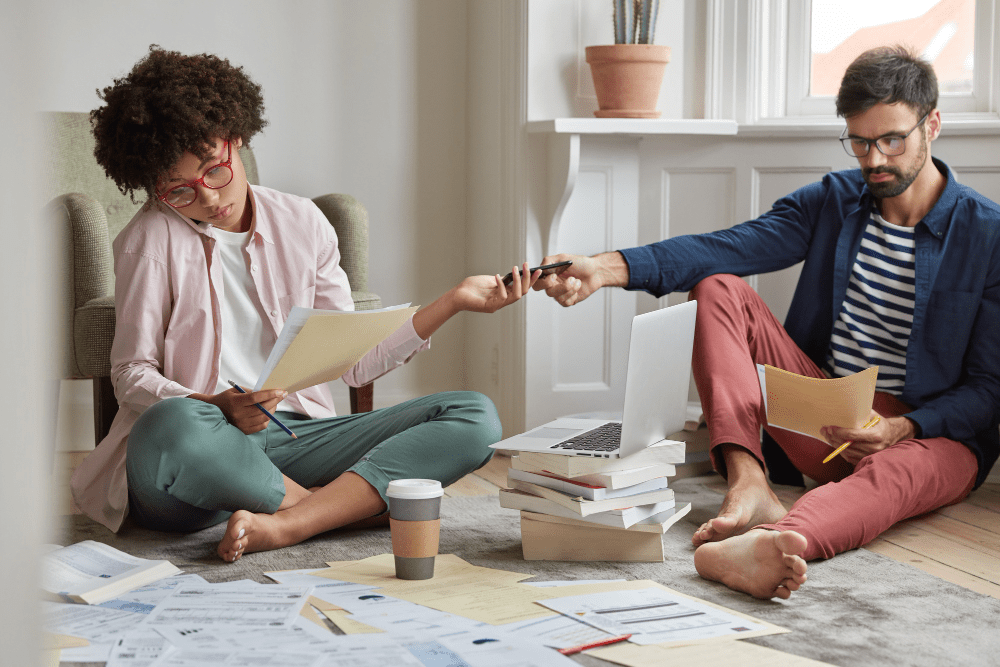 Planning is paramount when moving into a smaller space. Start by assessing your belongings and deciding what to take with you to your new home. Create an inventory list of all your items and categorize them based on necessity and size.
Large pieces of furniture, rarely used kitchen appliances, and excessive decorations are usually the first on the chopping block when downsizing. It's important to be realistic about the space you're moving into and make decisions accordingly.
Decluttering is the next crucial step in this process. It involves separating your belongings into four categories: keep, sell, donate, and discard. Items that you use regularly, have sentimental value or are practical for your new space should be kept. Consider selling or donating items in good condition that you no longer need or use.
Lastly, recycle or dispose of items that are broken or no longer usable. By planning, shopping, and organizing ahead, your move to Vero Beach becomes less stressful, and settling into your new house turns into an exciting venture rather than a daunting task.
Essential Packing Tips for Small Spaces in Vero Beach
Transitioning to a smaller home necessitates a well-thought-out packing strategy. Here's how to maximize your new living space with effective packing:
Use Appropriate Boxes: Each item requires a specific kind of box. For instance, delicate items need solid boxes filled with abundant padding to prevent damage. Books, on the other hand, are best packed in smaller boxes to avoid making the load too heavy.
Label Boxes Precisely: Accurate labeling of your boxes is essential for easy unpacking. Mark each box with the room it belongs to and a brief summary of its contents. This practice will help you find what you need quickly and arrange your new home more efficiently.
Disassemble Large Furniture: If you have large pieces of furniture, disassemble them before moving. This tactic will not only make the furniture easier to transport but also help it fit into your storage unit or new home.
Maximize Packing Space: Make use of every bit of space when packing. For example, you can fill your pots and pans with small kitchen items like spices, utensils, or dish towels. This step will save space and also provide extra padding for these items.
Repurpose Clothes and Towels: Instead of investing in bubble wrap or packing peanuts, use your clothes and towels to protect fragile items. They offer excellent cushioning and also save space since you would need to pack them anyway.
Furniture Considerations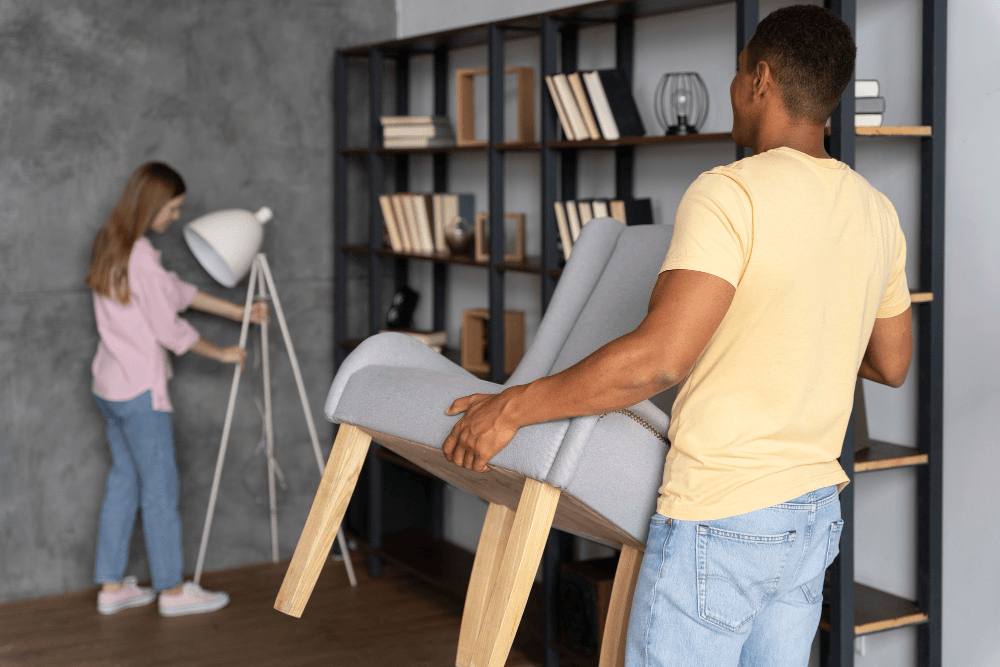 When moving to a smaller home, every piece of furniture must earn its keep. Start by measuring your new space and your existing furniture. This will help you understand what will fit and how you can arrange it.
Large pieces of furniture might overpower your new home or simply not fit, so be prepared to sell, donate, or store oversized items. Choosing the right furniture can significantly affect your living experience in a small space. Consider investing in multi-functional furniture.
A bed with built-in storage, a dining table that can serve as a workspace or a sofa that converts into a guest bed can be real space-savers. Vero Beach offers the only beachfront location for a range of furniture stores where you can find the perfect pieces for your new home.
Tips for Maximising Storage in a Smaller Home in Vero Beach
Transitioning to a smaller living space often requires inventive solutions for storage. Here are several tactics you can employ to fully utilize the space coast your new home:
Vertical Space Utilization: Floor space may be limited in a smaller home, but the walls provide ample room for storage. Install shelves or floating wall units to take advantage of your vertical space. This approach not only increases storage capacity but also gives an illusion of a larger space by drawing the eye upward.
Invest in Storage Furniture: Multifunctional furniture can significantly enhance the storage capacity of your new home. opt for beds with built-in drawers, ottomans that open up to provide storage space, or coffee tables with storage compartments.
Capitalize on Underutilized Spaces: Often, there are underutilized spaces located in a home that make excellent storage spots. The area under your bed, behind doors, or above kitchen cabinets can be used to store items that you don't use daily.
Keep the Floor Clear: Free up floor space by using wall-mounted fixtures wherever possible. For instance, use wall-mounted lamps instead of floor lamps, install floating shelves instead of bookcases, and use wall hooks to hang items like coats and bags.
Read More: How to choose the best moving company in Very Beach
Why Professional Help is Crucial for Moving Into a Smaller Space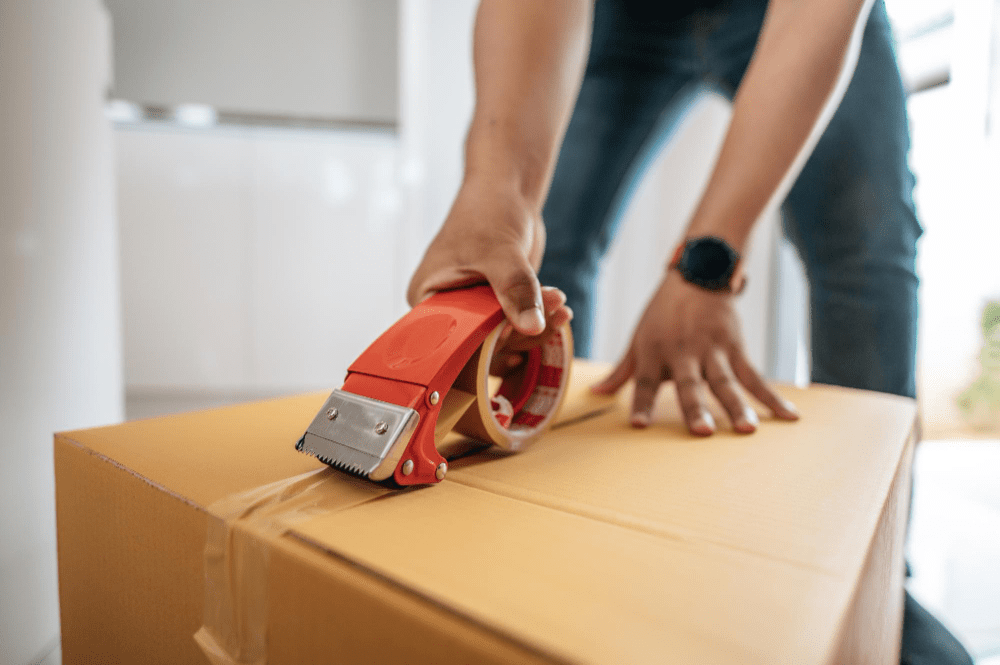 1. Expert Planning
Professional movers bring years of experience to your move, allowing them to plan each step meticulously. They can gauge the right number of boxes, accurately estimate the time required, and determine the best order of operations for a move.
They can also handle unexpected problems and last-minute changes with ease.
2. Efficient Packing and Unpacking
Packing efficiently is especially critical when moving into a smaller space. Professional movers are trained in space-saving packing techniques and know how to pack items safely to prevent damage during transit.
In addition, they can also help with unpacking. Which can be just as challenging as packing, especially when you're trying to fit your family and belongings into a smaller area.
3. Heavy Lifting
Some belongings are too heavy or bulky to move without access to the proper equipment or manpower. Professional movers have access to the tools, equipment, and trained staff to safely move large pieces of furniture, appliances, and other heavy items.
4. Time and Energy Saving
A professional moving company takes the burden off your shoulders, saving you time and energy. Instead of spending weeks packing and planning, you can focus on other important aspects of your move, such as details such as setting up utilities in your new home or saying goodbye to neighbors.
5. Reduced Risk of Damage
Professional movers know how to handle fragile items and protect your belongings during the move. They have the right packing materials and equipment to secure your items and prevent damage. They also offer insurance options to cover any potential mishaps.
6. Storage Solutions
If you decide you're downsizing, you might not have room for all your possessions in your new space. Many moving companies, like Friends Moving, offer storage solutions. They can help you securely store any items you decide you're not ready to part with but can't fit in your new home.
7.Stress Reduction
Perhaps one of the most important reasons to hire professional movers is the reduction of stress. Moving can be an emotionally and physically demanding process.
Having a professional team to manage the logistics can provide peace of mind and allow the rest of you to focus on the exciting aspects of transitioning to your new home.
Friends Moving Can Be Your Reliable Partner in Your Transition to a Smaller Space in Vero Beach, Fl
At Friends Moving, we understand the unique challenges that come with downsizing. Our team has the expertise, equipment, and dedication needed to ensure a smooth transition to your new space in Vero Beach.
From the initial planning stages to the moment the last box is unloaded from our moving truck, we're there every step of the way. One of our key strengths is our personalized approach. We understand that every move is unique, so we tailor our services to fit your specific needs.
Whether you need help packing delicate items, disassembling furniture, or finding temporary storage solutions, Friends Moving has got you covered.
Moreover, we pride ourselves on our commitment to customer service. Moving can be stressful, but our team is dedicated to making the process as smooth as possible. We're more than just a moving company; we're a group of dedicated professionals committed to making your move to Vero Beach a success.
Our Additional Services
At Friends Moving, we pride ourselves on offering more than just moving services. We provide a comprehensive suite of solutions designed to cater to all your relocation needs.
Whether you're moving to a smaller space or across state lines. Here are some of our additional services that can simplify your transition:
Residential Moving: We handle the logistics so you can focus on settling into your new home while residential move.
Senior Moving: We provide specialized services to ensure a smooth transition for seniors to move.
Storage Options: We can suggest suitable storage units for any items you decide to keep but don't have room for in your new home.
Business Moving: We also assist commercial moving in transitioning to new locations.
Family Moving: We help families with kids make a smooth move.
Nationwide Moving: We are equipped to help you relocate anywhere in the country.
Full-Service Moving: From packing to unpacking, we handle every step of the process.
Specialty Moving: We have the equipment and expertise in specialty moving.
Full-Service Packing: We provide packing services to make your move as stress-free as possible.
Conclusion
Moving into a smaller space in Vero Beach doesn't have to be a daunting process. With careful planning, smart packing, and the right moving company, you can transition seamlessly into your new home.
Vero Beach, with its welcoming community, stunning beaches, and relaxing lifestyle, is a wonderful place to visit and start your new chapter. And remember, at Friends Moving, we're not just here to help you move house. We're here to help you move on to the next exciting stage of your life.
FAQs
What are the benefits of moving to a smaller home in Vero Beach?
Moving to a smaller home in a neighborhood in Vero Beach can offer various benefits such as lower living costs, less maintenance, and an opportunity to have a family enjoy a simpler lifestyle in a beautiful coastal city.
How do I plan for my move to a smaller space?
Planning for a move involves creating an inventory of your items, categorizing and selling them, and decluttering your belongings. It's essential to be realistic about what will fit in your new space.
What are some packing tips when moving to a smaller home?
Use the right box for each item, label your boxes accurately, disassemble large pieces of furniture, use all available space in packing, and use clothes and towels as packing materials.
Why should I hire a professional moving company like Friends Moving?
Professional moving companies have the experience, expertise, and equipment to ensure a smooth and stress-free move. They can save you time and effort, and cost, and help you anticipate and solve potential problems.
What other services does Friends Moving offer?
Friends Moving offers various services, including residential, senior, family, business and nationwide moving. We also provide storage options, full-service moving, business specialty moving, and full-service packing.